Australian Powerball Jackpot Largest Ever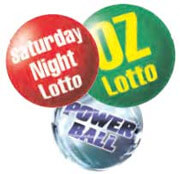 So the Australian Powerball jackpot once more was not won! Sadly no-one was able to match the winning numbers :-(
On the up side however, this now means there is an enormous jackpot of fifty million dollars this week :-). Which is the largest ever jackpot for an Australian lottery!
So are we about to see the richest ever Australian lottery winner?
The highly popular Australian Powerball game was made to give very big prizes - and very big jackpot winners. The largest ever lottery wins have been more than $30 million only 4 times. And that's since the game launched back in 1996, making this weeks draw a very special event for all Australians.
Who were the previous big winners?
Three of those huge jackpots were winners from on Powerball game, with one each from Western Australia, Victoria and New South Wales. Oz Lotto provided the 4th biggest win.
Oz Lotto has also produced the biggest ever Australian lottery prize so far. And it happened just a few weeks back. An astounding 1st division prize of $47 Million was claimed on 29 April 2008. It was shared by just 2 winning tickets, both bought in Sydney's western suburbs. One was by a young man who claimed $24 Million, the other a syndicate of laboratory workers - who after sharing on win still got $1.5 Million each to celebrate.
If you want to play the big Powerball draw in a syndicate to get a much better chance of winning join the WinTrillions OzLotto Syndicate now.
< Back to Australian Lottery Syndicates page