Canadian Lotto Syndicates
Playing the Canadian lottery in a syndicate does mean greater chances of winning, but fairly restrictive terms on Canadian syndicates means they are few and far between.
The Reviews
Rating
Click For Review
Summary
Canadian Lotto Syndicates

stars

Marios Lottery Groups
A very good Canada Lotto 649 and Super 7 group. Recommended.
Want to list your lottery syndicate? Submit your Canada Lotto 649 syndicate for review.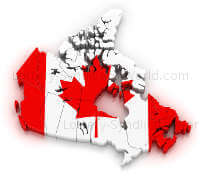 The Canada Lotto 649 - A Little Background
The Canadian Lotteries began in 1969, and are now run by 5 corporations across Canada. National games such as the Lotto 649 are run by the Interprovincial Lottery Corporation. There are also many other games played across provinces and territories.
The 649 draw (6 balls from 49 of course) runs every Wednesday and Saturday. Approx 36% of ticket revenue is returned to the Governments - each of which use in their own way, from sponsoring the Canada games to supporting local fundraisers.
Eastern Canada tends to show more jackpot winners - but only because 65% of tickets are purchased in Ontario and Quebec, which is in line with their populations compared to the rest of Canada. So don't relocate to increase your chances!
The Canada Lotto 649 jackpot is usually $2 million for a match 6 prize - but a couple of friends from Charlottetown, P.E.I. recently shared a nicer jackpot. The store clerk checking their ticket proudly announced they had won fifty thousand dollars until another employee pointed out there were far too many zero's for fifty thousand dollars - and it was actually $5 million they happily split.
Playing Canadian Lotteries in a Pool
Larger, organised pools for the Canada Lotto are rare, due to it being illegal in Canada to profit from administering a pool. They tend therefore to be small and run among friends and office workers. (The UK is much more relaxed in this area and actively promotes syndicates, so if you fancy a share of one of the worlds largest tax free jackpots, consider a UK Lotto Syndicate - they are open to players all over the world).
Canada Lottery News
23 July 2009: A brand new draw will be arriving in September 2009, read more about How To Play Canada Lotto Max.
Read more about the Canada Lottery in our blog.
Closed Syndicates (for reference only):
Rating
Click For Review
Summary
Closed Canadian Syndicates

stars

Great Canadian 649 Lotto Pool
A well thought out syndicate playing the Canadian lotteries.