Review of '20 Chances'
'20 Chances' as the name suggests gives you 20 entries on the CA Super Lotto Plus. Syndicate groups are formed from 20 people all funding 1 entry each.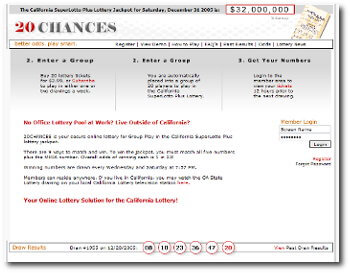 The syndicate offers play in the Saturday and Wednesday draws - and you can choose to play one or both Super Lotto Plus draws each week. It's also open to players worldwide which is a point in it's favour.
So How Does It Work?
The cost is $2.99 to play in a single draw. I like that the option to play a single draw is provided - it gives you the choice to play when you want, perhaps only in rollover draws if that's your thing.
It is cheaper however to play using the monthly subscription options, priced at $11.99 per month to play one draw, or $23.99 per month for both. All payments are via credit card.
It's worth pointing out right here that this is certainly not the cheapest syndicate. There is a lot of effort required to run a lottery syndicate, and expenses to cover, but $3 on a $1 ticket does feel pretty expensive - I'd like to see this reduced some.
About The Game
The CA Super Lotto Plus is a Powerball type draw which does mean those odds are going to be tough. California is amongst the better Powerball games though, at about 1 in 41 million for the jackpot (it's a 5 balls from 47 draw followed by 1 ball from 27). Still tougher than your standard 6 from 49 lottery draw though which gives odds of around 1 in 13 million.
Consequently those syndicate groups could do with being larger, but I guess that would break the name!
Handling Winnings
Winnings are shared equally between the 20 players in the syndicate group. Amounts below $600 are split and added to your account. Larger wins require completion and return of a claim form to '20 Chances'.
There are (thankfully) no deductions from winnings, or charges applied for requesting payment of your account via check. You can also use smaller winnings to fund future play if you prefer.
Your ticket selections are allocated to you by '20 Chances', and are all made by Quick Picks (no crazy selection 'system' here). Tickets can be viewed online before draws take place.
What Do We Think
So we have a professional syndicate, with a well designed site and a good members back office area. Syndicate groups could do with being larger to better balance with those long odds. But unfortunately even that aside, the price is too high to receive a recommendation.
Click Here For
'20 Chances'
LATEST NEWS: 20 Chances has now closed - another apparent victim of the strange US anti-internet gambling laws. Click here for other top rated alternatives.
Similar Lottery Syndicates:-
Powerball Syndicate - for US players who prefer the big prize games.
Florida Lotto Magic Review - play Florida Lotto with an option for Powerball too.
Irish Lotto Syndicate - nice option for those wanting to play the Irish lottery online.