'Euro Millions Oracle' Review
'Euro Millions Oracle' launched in October 2004, playing the EuroMillions lottery. The operator runs the syndicate purely for a share of the winnings.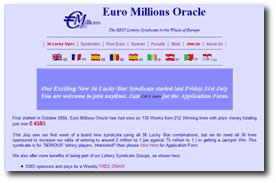 The charges therefore are minimal. This is great so long as the motivation remains to keep the syndicate running. And the possibility of a share in a big EuroMillions jackpot might just be enough to maintain that.
The Syndicate
'Euro Millions Oracle' is UK based, but open worldwide. Each member funds a single line in the syndicate, with subscriptions now payable for 12 weeks in advance - which is sensible to reduce admin effort.
The group size is not specifically stated but appears to be 24 people. But as those 24 people are only funding one line each this is quite small for a lotto game with pretty tough odds. (It's still over 1 in 3 million for the jackpot with a full group!)
At the time of writing the first group is full and a second group started. Unfortunately a common drawback with smaller home based syndicates as seen here, is that a new group will be playing even less than 24 lines. So you could find yourself in a group playing only a couple of tickets a week.
This problem is usually avoided with professional syndicates as they typically fund all positions in a group even if there is only 1 paying player.
Joining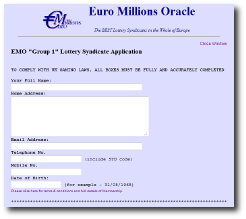 To join you complete an 'online' registration form, but unfortunately do then just have to print it out to post it with a cheque or money order.
Payment can be in UK pounds or Euros, for 12 weeks in advance, at a cost of £18 (but 36 EUR if paying Euros, darn that exchange rate). Receipts are then emailed to you.
Picking Numbers
Players pick their own numbers, picking 5 main numbers and 2 lucky stars. These can be changed later. All selected numbers are available to view for the week before each draw.
Winnings
Results and winnings are shown on the website, usually next day. Winnings of less than £40 are held and can be put towards Bonus Plays. Balances over £40 are paid out or can be used to fund future play. There is a £1 fee (2 Euros) for mailing winnings payments.
Bonus Plays
When the prize fund reaches £54, syndicate members can play extra bonus lines in the next draw. This is optional. The £54 amount covers 36 entries which allows a group of tickets to be bought that covers all possible combinations of Lucky Star numbers.
Weekly Free Draw
Every week a bonus EuroMillions ticket is paid for by the syndicate owner. One syndicate player is drawn at random, and any winnings from that ticket are shared equally between the chosen player and the syndicate owner. But you do of course need to win the draw to be the chosen player AND then win a prize with that single ticket - so more a novelty really than a valuable feature.
The Website
Most of the information is there on the site, but it can be confusing and sometimes difficult to find. This together with the design doesn't inspire great confidence, but this is a one man band as are many amateur syndicates.
Conclusion
This home based syndicate has so far stood the test of time. It is low cost and run by a dedicated operator, although remains very small.
The key drawbacks though are the small group size for the chosen game. And the likelihood that a new member will be in an even smaller group whilst waiting on other new members. And that could be a long wait.
Click Here For
'Euro Millions Oracle'
Similar Lottery Syndicates:-
Love My Lotto Review - the 'lots of draws' approach to playing in a group.
You Play We Play Review - dynamic groups that allow you to play only when you want to.
Tips 4 Winning Review - a semi-pro offering that has a some really good features.
Lotto 28 Review - not the nicest looking website but at least there is a decent group behind it.
Irish Lotto Syndicate - great game for playing in a pool, decent prize but much better odds than most games.
Syndicate Options For Players In The USA:-
Powerball Syndicate - if you like the big prize games try this instead.
Florida Lotto Magic Review - play Florida Lotto with an option for Powerball too.