Lotto 28 Syndicate Review
Lotto 28 is a very low cost amateur run UK lottery syndicate, with some really good features. It was founded in April 2001, and plays the UK Lotto draw.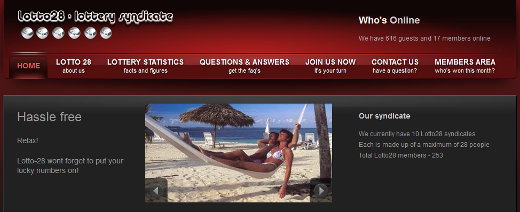 Balancing Act
One of the critical aspects of any national lottery syndicate is balancing the number of players in a group with the number of lines entered.
The more members per group the more lines you can buy, and the better the chances of winning - but the smaller the share per member when you win of course.
Lotto28 have devised a novel and effective way of balancing a syndicate. Each group is made up of 28 players buying 28 tickets between them. Which at first perhaps looks a little small. But the prize pot is shared in a rather unique way which we'll come to in a moment.
You have a choice of playing the Wednesday draw, Saturday draw, or both.
Multiple Layers Of Syndication
Each player picks their own line of numbers. If that line wins any prize, 50% of that prize goes to the member who picked those numbers.
Then 45% of the winnings are split equally across the rest of the group.
The remaining 5% is split across ALL groups.
This is simple, but fiendishly clever! Because it effectively gives you a small share of an ever growing and potentially very large syndicate group. Plus a solid share of a more modest sized group. Plus a big share of a very small group - your 1 line!
If I'd been clever enough to think of it, I would probably have balanced at something more like 20% to the member, 60% to the group and 20% to the whole syndicate. But then I didn't think of it :-)
---
---
How Much To Play
This is an amateur syndicate so avoids the expense of a professional group. They don't therefore charge any admin fees. So the cost to play comes in at an affordable £8.66 per month for each draw you want to play.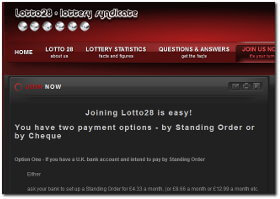 Payment is by monthly standing order or by cheque (for 6 months in advance). Unfortunately you can't join online and start playing right away, but the forms to join can be printed from the site. These will however need to be filled out and posted back.
Once your forms are processed you then start playing from the beginning of the next month.
So it's a bit of long winded joining process, but once you've done it then there's nothing more to do - unless you're paying by cheque in which case it's just twice a year that you'll need to post another one.
Tickets, Winnings and Results
Lotto 28 produce a monthly newsletter to keep in touch with members of the syndicate, and online facilities are available to check results and winnings.
Payment of winnings is by bank transfer or cheque at the end of each month, and subject to a minimum of £10 - which is good to see. You can also let smaller wins accumulate and be entered into a quarterly draw - when the group buys a whole load of tickets for everyone who chooses this option.
New groups start as and when they are required so there is no delay to start playing, although it does mean you could be playing in a group of less than 28 people for a while.
Conclusion
A really nice little amateur UK syndicate. Well designed and reliably run. Payment options are very limited though, and their website really doesn't do them justice.
Similar Lottery Syndicates:-
Big Fat Lotteries Review - plenty of game choices from this highly experienced professional syndicate company.
Love My Lotto Review - a different way to play, focuses on covering lots of different draws rather than just playing one game.
You Play We Play Review - options for pay as you go play, as well as subscriptions.
Tips 4 Winning Review - a semi-pro group with a focus on playing EuroMillions.

by
Mark
2009-05-06 Updated:
2014-04-02