Love My Lotto Syndicate Review
This lotto syndicate is different. Most syndicates focus on playing a single game, but Love My Lotto have taken the 'multi-lottery' approach.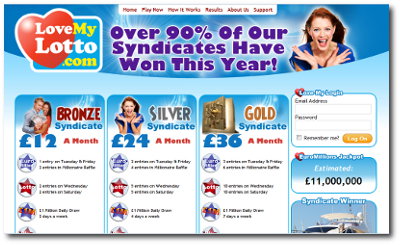 They offer 3 levels of membership starting at just £12 per month. All syndicate levels play the same games, but you get more entries and therefore better chances with the more expensive options.
The syndicates are open to players all over the world (except for the USA, those in the US see below).
Which Games?
The lottery games covered are the UK Lotto (both Saturday and Wednesday draws) including the new UK Lotto Raffle, EuroMillions (both Tuesday and Friday draws), Millionaire Raffle (Tuesday and Friday) and £1M Daily Draw.
Millionaire Raffle is a UK only extension to EuroMillions. It guarantees a £1 million prize paid at random each Tuesday and Friday to one EuroMillions ticket bought for that draw in the UK.
We should also note here that the Daily Draw mentioned is an internal game run by the company themselves, so don't confuse it with 'Daily Play' that used to be run by the UK National Lottery. Daily Draw has a fixed daily jackpot prize of £1 million plus smaller prizes ranging from £15 to £200,000. (While Daily Play had a top prize of £30,000 and ended on 6th May 2011)
So Love My Lotto do cover some of the most popular lottery games in the world.
The 'pre-packaged' membership options do make things simple. But we would also like to see options that focus on specific games rather than all games too. This is of course something they could introduce in time.
The Membership Levels
Love My Lotto have worked hard to balance membership options, and have succeeded in providing a low cost way to play in lots of big prize lottery draws.

The syndicate membership levels have been named Bronze, Silver and Gold, and all syndicates are made up of 37 players.
Here's how many entries you get per week for each level:-
| | Bronze | Silver | Gold |
| --- | --- | --- | --- |
| Saturday UK Lotto | 2 | 4 | 7 |
| Wednesday UK Lotto | 2 | 4 | 7 |
| Saturday UK Lotto Raffle | 2 | 4 | 7 |
| Wednesday UK Lotto Raffle | 2 | 4 | 7 |
| EuroMillions Tuesday | 2 | 4 | 7 |
| EuroMillions Friday | 2 | 4 | 7 |
| Tuesday Millionaire Raffle | 2 | 4 | 7 |
| Friday Millionaire Raffle | 2 | 4 | 7 |
| £1M Daily Draw | 2 | 4 | 7 |
| Price1 | £2.77 per week | £5.54 per week | £8.31 per week |
Notes
1) Subscriptions are paid monthly.
Joining etc
You can of course join online. Subscriptions are paid monthly, and can be made by debit or credit card.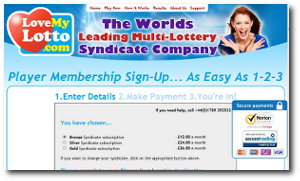 Emails are sent out every time your syndicate wins anything. And your winnings build up in your online account until you request to be paid. Payments are then issued by cheque.
This company certainly fall into the professional lottery syndicate category (here's the Love My Lotto TV advert if you haven't seen it). The directors list a respectable business history. They have proper offices and staff, and get audited by accountants (Grant Thornton) to ensure everything is being run properly. This also means you can phone someone should you have any queries.
So What Do We Think?
The packages offer a low cost way to play a wide variety of games, which is certainly appealing. As is the infrastructure of a proper company running them.
The downside of this of course is that a chunk of your subscription pays for that infrastructure rather than lottery tickets. But if you prefer having a team of people with proper offices running your syndicate, this is to be expected. We would like to see a few more tickets per week for your money though.
But overall it is a likeable 'no-hassle' package. And whilst it isn't for everyone, it will prove an attractive option for many.
Latest LML News:-
9 Oct 2012 LML have restructured their groups to cater for the price rise of the UK Lotto, and the withdrawal of the Plus 5 game.
14 Dec 2012 Double Your Money Day! - All prizes won by every syndicate in the EuroMillions draw on 21st December will get their prizes doubled. Every prize. Even if you win the jackpot - and yes, they have taken out insurance to cover this.
27 Nov 2012 Christmas Promotion Code Special - As a Christmas bonus LML are running special daily Christmas Syndicates where you can win a guaranteed £5,000.
28 Sep 2012 Lotto Plus 5 Added To Syndicates - Introducing Lotto Plus 5, and a snazzy new website.
4 Jun 2011 LML Interview 'Jackpot John' - watch syndicate millionaire John talk about how he found out he won, and what he thinks about this syndicate.
8 Jan 2011 Magazine Advert - Here's the companies first full page magazine ad spotted in What's On TV.
29 Dec 2010 See Their TV Advert - watch their new TV commercial that started broadcasting today.
22 Dec 2010 Company Balloon Launch - a short video of Lord Digby Jones and the official launch of the company in Birmingham.
Similar Syndicates:-
Big Fat Lotteries Review - options for playing the UK Lotto, EuroMillions and more from this well established professional company.
You Play We Play Review - straightforward syndicate options, with a very useful pay as you play feature.
Tips 4 Winning Review - more of a semi-pro group with a greater focus on playing EuroMillions.
Lotto 28 Review - an amateur group that cover both the Saturday and Wednesday UK Lotto draws.
Syndicate Options For Players In The USA:-
Powerball and Mega Millions Syndicate - if you like the big prize games try this instead.
Florida Lotto Magic Review - play Florida Lotto with an option for Powerball too.

by
Mark
2010-12-21 Updated:
2013-10-09