Review of 'Big Powerball Pool'
This pool plays the US Powerball from their home base in Wisconsin. They guarantee 800 chances of winning every month.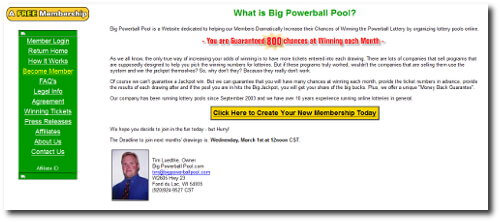 Wisconsin is of course part of the Multi-State Lottery Association (MUSL) which now covers 44 states for Powerball. That's why the jackpots get so large of course - tickets are being bought pretty much all across the USA. Which results in some very big jackpots - the largest so far being an incredible $365 Million (that was won on 18th February 2006 by a syndicate of meat packers)!
Note: Unusually for a US based syndicate, this one is open to players all over the world.
How Does It Work
The actual syndicate groups are made up of 100 players in each, playing 100 tickets total in every Wednesday and Saturday draw. This gives a minimum of 800 chances of the jackpot every month. The cost is a pretty decent $19.99 per month.
What About Winnings?
Winnings of less than $10 are rolled over to buy extra tickets for the following month. More than $10 and the balance is issued to members by check.
Numbers played in each draw are available on the site before the draw is made, and a list of winnings for the last 90 days is also viewable ($10,352.00 won since September 2003).
Joining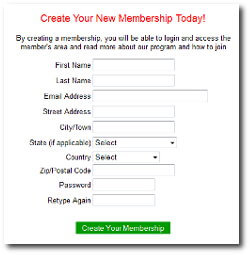 You can join the pool online with a simple name, address and password application form.
The Members area contains a lively, friendly newsletter from the owner Tim Luedtke, and plenty of information about the syndicate and winnings/results etc.
Conclusion
All in, this syndicate looks pretty good. Big jackpot, good balance of number of players to size of prizes, and reasonable balance of cost to number of lottery entries. I think this one gets our 'worth a shot' award.
Click Here For
'Big Powerball Pool'
LATEST NEWS:
Big Powerball Pool has now closed - another victim of the strange US anti-internet gambling laws.
As an alternative you might like this Powerball syndicate from Wintrillions.
Similar Lottery Syndicates:-
Powerball Syndicate - for US players who prefer the big prize games.
Florida Lotto Magic Review - play Florida Lotto with an option for Powerball too.
Irish Lotto Syndicate - nice option for those wanting to play the Irish lottery online.