'Tips 4 Winning' Review
Tips 4 Winning (T4W) is a low cost syndicate focusing mainly on the EuroMillions lottery.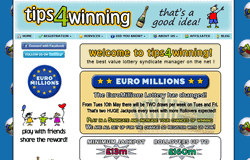 You can choose to play in 1 draw per week, or both the Tuesday and Friday draws.
Groups are made up of no more than 66 people, and numbers wheeled to cover all the lucky star numbers in each syndicate group. Therefore each group plays with up to 55 tickets - which of course means 55 times the chance of winning the jackpot, assuming a full group.
Semi-Pro?
Tips 4 Winning currently sits somewhere between amateur status and professional. The website has recently received a major facelift and now looks significantly more professional.
And the owner, Steve Thornton, is enthusiastic and professional in his approach to managing the syndicates.
How Much?
To play costs £3.50 per week for 1 draw, or £6 if you want to play in both weekly EuroMillions draws.
[Obviously it's more cost efficient for T4W if you play in both draws, so they pass on that benefit to you, so you pay only £6 instead of £7 for both draws]
Payments are made on a 4 weekly cycle, so it's either £14 or £24 to join, and you are then covered for 4 weeks of play.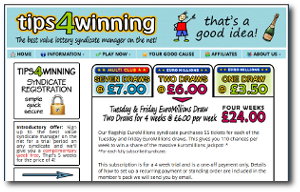 Joining online is quick and easy as minimal details are required, and the initial payment is made either by Paypal or Moneybookers.
This covers your first 4 weeks, and you can then choose to set up a recurring payment or standing order for future payments.
So this means you can join online and start playing right away.
Millionaire Raffle
As the syndicate is based in the UK, and buys all tickets there, your group also plays in the EuroMillions Millionaire Raffle - which pays a guaranteed £1 Million prize every draw.
Each set of numbers purchased provides 1 raffle entry, so a full group also gives you 55 times the chance of winning the Millionaire Raffle.
Group Size
The groups when full buy 55 EuroMillions tickets between them, which is a good solid boost to your chances of winning.
Groups may not always be full however, so you may find sometimes you play with less tickets. This is fairly normal for smaller syndicates, particularly in their early days, due to the cost of funding any empty places.
If this is a concern though, ask how many will be in your group to start with. If it's not enough players and you're not willing to wait it out, choose a different syndicate instead.
Winnings?
The winnings are shared equally between all members of the group.
A float of £100 winnings is built up, to ensure that funds are always available to buy tickets. This is not uncommon and is really helpful if there is a problem with a payment from any member in the group.
Winnings are then distributed in batches of £100 or more per group (not per player - you don't have to wait for your winnings to hit £100!).
Fund Raising & Good Causes?
Steve is very enthusiastic about Tips 4 Winning being used as a fund raising vehicle for groups and good causes. That could be anything from a school PTA to sports or youth groups.
There's more information on the site if that side interests you.
In Conclusion
This is a good solid EuroMillions syndicate. There's no online Members area. But everything can be handled by email after joining.
And of course the low cost does make it accessible to all.
Click Here For
'Tips 4 Winning'
Latest 'Tips For Winning' News:-
10 Nov 2016 Sadly another one bites the dust. Tips 4 Winning quietly closes down without giving any explanation.
10 Sep 2013 New introductory offer - get 1 week for free when you join.
21 Mar 2013 Multi Club option launched, now you can play the UK Lotto as well as EuroMillions.
Similar Lottery Syndicates:-
Big Fat Lotteries Review - BFL have many years experience running professional syndicate groups.
Love My Lotto Review - more of a 'portfolio' approach to playing, so lots of draws rather than lots of tickets.
You Play We Play Review - monthly subscriptions, or unusually a 'pay as you go' option.
Lotto 28 Review - don't be put off by the somewhat dodgy website, this is much better than it looks.
by
Mark
2011-03-06 Updated:
2013-09-10