TSC2000 Europe Review
'TSC2000 Europe' is an Australian lottery syndicate open to players all over the world. The syndicate has been running since 1999, and has paid out over 8 million prizes to members - including some 1st division wins too.

Members are placed in mini syndicates of 25 people and there are two levels of membership you can choose from - Classic and Platinum. Classic gives you 124 lines per week and costs just AUD$13.75 pw. Entries are made up of:
39 lines weekly in the Tuesday Oz 7 Lotto (i.e. you get 6 numbers plus every possible 7th number covered)
40 lines weekly in the Saturday Night Lotto (i.e. you get 5 numbers and every possible 6th number covered)
45 lines weekly in the Thursday Australian Power Ball (i.e. you get 5 numbers plus all possible PowerBall numbers covered)
TSC Member Prize Quiz - a daily prize of AUD$500, plus five monthly prizes of AUD$1000. Members are drawn at random and if they correctly answer a question by email, they win the cash prize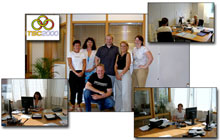 So TSC2000 do provide lots of participation in the Australian lottery to keep things exciting, plus the daily quiz providing a really good chance of winning AUD$500 every day.
Platinum membership simply gives double the entries - and of course double the chances of winning the Australian lottery jackpot. This costs AUD$27.50 pw. You are able to upgrade and downgrade if you wish.
There is an annual membership fee of AUD$25 ($50 for Platinum) which is pretty reasonable. Subscriptions are paid monthly, with one additional months payment for the first month only to maintain a 'reserve fund'. But this is a good thing. Imagine if your group won the jackpot but your payment had been missed or delayed. That's why a reserve fund is used and we have to agree it is a valuable feature.
IMPORTANT NOTE
The TSC2000 web site is really confusing, but there is actually a very good syndicate here. So we recommend you turn your speakers on and watch the TSC2000 syndicate movie - then use this shortcut straight to the application form. (There is another movie on the TSC2000 site but the movie here is much faster to watch).
Conclusion
A professional Australian lottery syndicate, with a good balance of entries and players. Recommended - just try not to let their confusing website stop you from joining!
Click here for TSC2000 Europe
LATEST NEWS:
(22 Jan 2011) TSC2000 has now closed. They apparently lost their payment facilities 'due to a technicality' so couldn't continue.
If you have any further information or questions, you can get in touch with us here.
Back To Australian Lottery Syndicate listings.
Similar Lottery Syndicates:-
Big Fat Lotteries Review
Love My Lotto Review
You Play We Play Review
Tips 4 Winning Review
Lotto 28 Review