Review of 'Lottery Pools Win'
This simple to understand lottery pool plays Mega Millions and Powerball - the two big multi-state US games.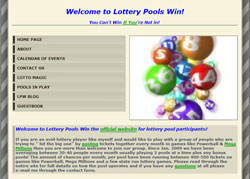 It's run on an amateur basis by George Holmstrom based in Massachusetts.
The pools are paid monthly, at a straightforward cost of $1 per game. So $8 for an 8 draw month and $9 for a 9 draw month. Payment is only via cash or certified bank check.
You choose if you want to play MegaMillions, Powerball or both.
All tickets bought for the month are scanned and sent to players before the first draw.
Each pool is capped at 120 shares maximum.
So What's Good?
As an amateur syndicate this is a cheap way to play. There are no costs for admin, offices, phones or tax etc.
And the pools are easy to understand, with the simple month-by-month structure.
And Not So Good?
I'm not a fan of the Mega Millions or Powerball. The odds are extremely tough - which is why it rolls over so much to give those big shiny jackpots.
[That's by design of course as big jackpots sell more tickets. Even when the odds are terrible!]
For example, with Powerball you need a pool of 14 people just to get the same odds as a single ticket in a 6 from 49 game (like MA Megabucks Doubler).
The other problem with amateur pools is the lack of funds for infrastructure. Generally meaning you can't join online, you can't phone someone and you have to hope they don't get sick and miss buying the tickets.
That's not a problem unique to this pool - all amateur pools can't help but suffer alike.
And without funds to promote themselves amateur pools often end up needing more members than they have. This one seems to be stuck around 30-40 members which isn't enough to make much of a dent in those massive odds.
In Conclusion
It's a reasonable amateur syndicate, but I can't help thinking they would be better off playing a different game.
Click Here For
'Lottery Pools Win'
LATEST NEWS:
(17 Jan 2012) This syndicate appears to have closed. The site is now redirecting to a blog instead.
Similar Lottery Syndicates:-
Powerball Syndicate - for US players who prefer the big prize games.
Florida Lotto Magic Review - play Florida Lotto with an option for Powerball too.
Irish Lotto Syndicate - nice option for those wanting to play the Irish lottery online.
Mark
2011-03-01 Updated:
2012-01-17