Review of Lotto Busters
'Lotto Busters' is based in Tennessee, and their chosen game is the big US Powerball. Not our personal favourite given the very tough odds, even for a lottery! But we are talking about very large rollover jackpots of course.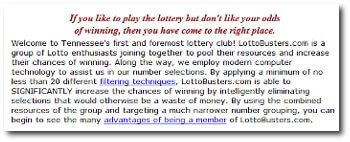 There doesn't appear to be any limit on the number of players in the club, which isn't necessarily a good thing. If 10,000 players join, you have a great chance of winning big, but then your prize is split into 10,000 pieces! In reality the pool will probably stay relatively small so this shouldn't end up being the case.
Note: Unfortunately the Lotto Busters club is for residents of the US only.
There are no entry costs, for membership or admin fees. The organiser is looking to make money from winning. I hope this is enough to maintain their interest as it does look well run. There is however a $5 charge for making a withdrawal - but if it's enough to be worth withdrawing, this won't be a concern.
I do have to throw in a small black mark for the reasoning behind the number selection strategy. It causes no harm at all, but does perpetuate the myth of certain number selections being 'improbable'. This is a lottery folks, every selection of numbers has an equal chance, whether or not the series of numbers looks unusual to our organised brains!
However the end result of this 'filtering' is actually of benefit, as it should serve to enhance any jackpot won by eliminating some commonly played numbers - you're sharing already, you don't want someone else winning half your jackpot. What it won't do though is meet Lotto Busters claim of increasing chances. (See 'Picking Lottery Numbers' for why)
The members area is nicely done, with plenty of information on winnings, draws and numbers to be played.
You can set your account to make entries for you every game, or make entries as and when you wish. There is no limit on how many entries you make either way - obviously more entries means a larger share of the winnings pot. Overall this is a nice looking syndicate.
Click Here For
'Lotto Busters'
LATEST NEWS: The Lotto Busters Club has now closed. No real explanation given, but refunds are being made. If you want to play the Powerball, take a look at this alternative Powerball lottery pool.
Or see our Best National Lottery Syndicate page for the top alternatives.
Similar Lottery Syndicates:-
Mega Millions Syndicate - for US players who prefer the big prize games.
Florida Lotto Magic Review - play Florida Lotto with an option for Powerball too.
Irish Lotto Syndicate - nice option for those wanting to play the Irish lottery online.