Back To EuroMillions Syndicate Reviews
VWD Syndicate Review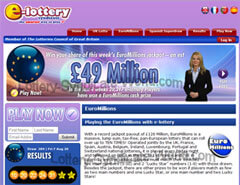 EuroMillions has produced some huge rollover jackpots. But chances of winning are much smaller than for a 6 from 49 lottery. So to get the best chances of winning why not play in a syndicate?
The New Euro Syndicate
Virtual World Direct (operators of the popular e-Lottery Syndicate) have now launched an online syndicate for EuroMillions.
Each group is formed from 39 members giving a total of 36 lines in each draw. We think larger groups would have balanced the chances of winning with the split of the large jackpot prizes a little better, but it's not a major problem - and it certainly makes things far easier to understand...

Each group is allocated a unique set of 5 numbers, PLUS every possible combination of BOTH Lucky Star numbers. This set of numbers are then entered into every Friday draw. This means you only need to match 1 ball to win a prize, and match just the 5 main balls to win the enormous jackpot.
Virtual World Direct are a very professional and reliable organisation - who have a solid track record of running large lottery syndicates (here's some photos of the VWD offices).
Open To Players All Over The World
You can normally only buy EuroMillions tickets if you live in one of the European countries taking part in the draw. But the VWD syndicate is open to players all over the world (NB: But see below if you're in the USA).
How Much Does It Cost?
The cost is just £5 per week (about 6 Euros) - that's it, no membership fees or hidden charges. This is actually pretty good given that the normal price of tickets is a bit higher than most other lotteries, and of course the solid professional administration you get.
When you join you also have the option of setting up a Reserve Fund. This is a useful feature as it provides 4 weeks of 'just in case' cover should payments be missed for any reason. It ensures both you and the rest of your group stay qualified for the big prizes. It is also fully refundable.
Joining Online
As with the UK syndicates, all the facilities to manage your membership are available online. Emails are sent shortly after every draw to tell you when you win (picking email up on a Friday night or Saturday morning is more enjoyable as a result!). And you're generally kept informed of what's happening with the company.
So What Do We Think?
Fact is, this is by far the best EuroMillions group available - but given that it comes from VWD, we always knew it was going to be good. The only reason we haven't awarded top marks is those odds are still pretty tough for the jackpot. But if you want to EuroMillions then this is the best way to do it - and it's a heck of a lot better than buying just 3 measly tickets on your own for the same price! Recommended.
Click Here For
'Virtual World Direct'
LATEST NEWS:
11 Dec 2010 VWD/e-Lottery has now closed. The reasons why are not yet entirely clear.
02 Feb 2011 Refunds have been issued for outstanding winnings.
23 Feb 2011 More detail on why VWD/e-lottery closed down.
More eLottery News:-
e-Lottery Car Competition Winner Announced, Feb 2010
Win A Mini With e-Lottery Golden Tickets
e-Lottery Winners Share £88,748 UK Lotto Win
e-Lottery Celebrates 5th Birthday
VWD News Bulletin: Big e-Lottery Win Dec 2006
VWD News Bulletin: VWD Growth Triggers Office Move
Similar Lottery Syndicates:-
Big Fat Lotteries Review - the pro option that costs more, but if a professional company matters to you then it matters.
You Play We Play Review - a smaller pro company but offering the novel option of pay as you go play.
Tips 4 Winning Review - a semi-pro choice with some good features on offer.
Lotto 28 Review - an amateur option, but not one to gloss over too quickly.